The Odyssey
General information
This is a High School tournament in Minnesota.
View manager contact information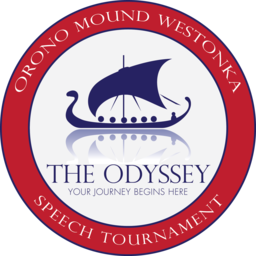 Come accept the challenge and begin your speech journey at The Odyssey Speech Tournament hosted by Orono and Mound Westonka on January 20, 2024. The Tournament will be held at Orono High School and Orono Middle School (on the same campus, in walking distance). We will use Speechwire and will accept all MSHSL and NSDA speech categories. We will offer Impromptu and POI, provided we have a minimum of 6 entries in either category. We will have novice and varsity divisions with three preliminary rounds and honors (for novice) and finals (for varsity) rounds. Team sweepstakes trophies will be given to the top 2 large and top 2 small schools. Concessions will be provided to students, and our booster parents will be providing food and beverages for judges, coaches, and bus drivers at the High School.
We are staggering round start times between Discussion, the remaining 12 MSHSL categories + POI, and Impromptu. We encourage you to try Impromptu this year! It's a fun category for students that requires no prep work, and the more students who enter means fewer students sitting in their rounds longer.
NIETOC
We are excited to be a NIETOC bid host school in 2024!
Students who break to a final round in Drama, Duo, Humorous, Info, OO, Prose, Extemp Speaking, and POI may be eligible to earn a NIETOC bid.
The exact numbers of bids awarded will be dependent on the final number of students in each category.

Since we keep novices in all breaks (finals, merit, next-in) before breaking to their own Novice Final, this also means novice students are eligible to earn bids as well (and increases the overall number of potential bids)!
Please note that Duo eligibility is based on students competing, not entries, so each Duo doubles the overall number of eligible bids in that category!
Prose students would earn bids to compete in Dramatic Interpretation at NIETOC.

Complete rules and bid information is available at nietoc.com
Registration and Fees
The cost is $7 per entry.

No more than 10 entries allowed per event per school.
​Registration Deadline
Please have initial registration entered in Speechwire by Monday, January 17th. This allows us to make any last minute room assignments so we keep rooms close to each other in each category.
The final day to make registration changes without penalty is Wednesday, Jannuary 17. Adds may still be done after this point, but drops after this point will not result in a change of statement.
Entry changes (drops or adds) can be made on the

speechwire.com

tournament site up until the end of registration.

We will be site scheduling all rounds of competition in order to make sure rounds are equal and fair. For this reason, registration must be completed promptly by 8:00 AM or a phone call to 612-308-3038 must be made to report your team drops.

Please make checks payable to Orono Speech Team and mail to Orono Speech Team 795 Old Crystal Bay Road, Orono MN 55356 (you may also hand a check to our front info desk in the morning, but please have late changes accounted for):





Barb Shofner




c/o the Orono Speech Team




Orono High School




795 Old Crystal Bay Road N.




Long Lake, MN 55356​
Format
All divisions (Varsity and Novice) will compete together in the three prelim rounds.
All entries will be sorted at the completion of the third prelim round:

First break to Finals will be by overall ranks in combined divisions (top 1-7 overall).
Additional Final Rounds may be added based on the size of each category (eg. Honor, Merit), and would include combined divisions.

The final break to Novice Finals will be by ranks of the remaining Novice competitors (remaining top 1-7 Novice).

Small categories such as POI or Impromptu would only have final rounds if numbers warrant (eg. more than 7 competitors). If a final round is not held for a division or category, awards would be based on prelim results.
​Team Sweepstakes:
Novice Division
A Novice competitor needs to meet either of the following criteria:

A first time ever competitor in speech (changing events does not count), and can be in any grade.
Any student in 6th, 7th, 8th or 9th grade who has never broken into an out round (eg. Honors, Quarter, Semi, Final) at any previous varsity tournament.

Due to anticipated small registration numbers, there will not be a Novice division for Program Oral Interp (POI) and Impromptu.
Schedule
| TIME | EVENTS |
| --- | --- |
| 8:00 AM | Registration Closes |
| 8:15 AM | Judge & Draw Meetings |
| 8:30 AM | Round 1 Draws (ER, ES, STY) & Discussion |
| 9:00 AM | Round 1 (All Categories except Discussion & Impromptu) |
| 9:15 AM | Round 1 Impromptu |
| 10:15 AM | Round 2 Draws (ER, ES, STY) & Discussion |
| 10:45 AM | Round 2 (All Categories except Discussion & Impromptu) |
| 11:00 AM | Round 2 Impromptu |
| 12:15 PM | Round 3 Draws (ER, ES, STY) & Discussion |
| 12:45 PM | Round 3 (All Categories except Discussion & Impromptu) |
| 1:00 PM | Round 3 Impromptu |
| 2:00 PM | Final Round Draws (ER, ES, STY) & Discussion |
| 2:30 PM | Finals for All Categories (except Discussion & Impromptu) |
| 2:45 PM | Final Round Impromptu (if numbers warrant) |
| 3:30 PM | Awards (or as soon as possible) |
Judges
Each team is required to bring 1 judge for each 6 entries (including double entries).
For each uncovered entry, the team will be assessed a $125 fee.
We hope to have 3 judges in Finals Round, and so ask that your judges please stay for Finals.
E-Balllots
This is an e-ballot tournament! When registering your judges, please provide their email addresses.

Judges should make sure they have tested logging in once before the tournament to verify their account works.

Judges will need to bring a wi-fi enabled device to the tournament to record ranks and critiques.

We recommend a device with a keyboard (laptop, chromebook, tablets with keyboard).

Do not use a smart phone for writing critiques online!
Double/Triple Entering
Double entering is permissible. Triple entry is not allowed.
Draw categories (ER, ES, STY) are not allowed to double entry in other draw categories, or Discussion.
Draw categories may double enter in any other category, including Impromptu Speaking.
Discussion is not allowed to double enter in a draw category. Discussion may double enter in any other category, including Impromptu Speaking.
Locations and Logistics
Please drop your team off at the Orono High School's front entrance.
Orono High School
795 Old Crystal Bay Rd N
Long Lake, MN 55356
Minnesota State High School League Event Info:
Extemp. Reading Prose: Stories 1-10 (students cannot repeat a cutting from their preliminary rounds in finals)

Extemp. Reading Poems: First Half - TBA (students cannot repeat a cutting from their preliminary rounds in finals)

Storytelling Stories: Stories 1-10 (students cannot repeat a story from their preliminary rounds in finals)

Discussion will have tasks from Topic I

Impromptu Speaking prompts will be delivered in the room by the judge. Speakers will draw several prompts from an envelope, and select one prompt to speak on. Speakers have a total of 7 minutes to decide on their prompt, prep and deliver their speeches. The judge will start timing a speaker at the time they draw their prompts from the envelope.
Internet Use
Students are permitted the use of the Internet in both Extemporaneous Speaking during prep time, as well as in Discussion rounds.
Barbara Shofner
Email address: speechteam@orono.k12.mn.us
Phone number: 952-239-2658
Mailing address
795 Old Crystal Bay Road N
Speech Team
Orono, MN 55356