The Odyssey: Your Speech Journey Begins Here
General information
This information is from a tournament in a past season!
This is a High School tournament in Minnesota.
View manager contact information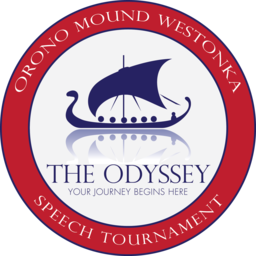 Come accept the challenge and start your speech journey at The Odyssey Speech Tournament hosted by Orono and Mound Westonka on January 23rd, 2021. We accept all MSHSL and NSDA speech categories including POI and Impromptu Speaking. All categories except POI and Impromptu will have novice and varsity divisions who compete together in prelim rounds. Breaks to Varsity Finals will include both novice and varsity divisions, followed by breaks to a Novice-only final round. In categories with enough entries, we will also break remaining varsity to an Honors Final.
The tournament will host all events synchronously on NSDA Campus, except Duo. Duo will compete asynchronously, and coaches would submit a single video link for each Duo entry to be used for all prelims and final rounds. In synchronous events, should you need accommodations for students who cannot compete synchronously, we will try to support asynchronous entries in any non-limited prep category. Please email Rhys Jones (jonesr@277apps.org) to let him know you will need to enter asynchronous entries, and a rough guess on how many you might need to help us better plan for this.
Registration and Fees
The cost is $8 per entry (Duos count as a single entry).
In order to help offset the cost of shipping awards, we are also asking teams to cover a base fee of $25.
There will be a cap of no more than 10 entries allowed per event per school.
Preliminary Registration Deadline: Monday, January 18th, 2021. This helps us estimate our virtual room needs. Drops and adds after this point can still be made without penalty.
Final Registration Deadline: Thursday, January 21st, 2021 at 10:00pm (all drops after this point will not result in a change of statement)
Entry changes (drops or adds) can be made on speechwire up until the end of registration. We will be site scheduling all rounds of competition in order to make sure rounds are equal and fair. For this reason, registration must be completed promptly by 7:45 AM or a phone call to 612-308-3038 must be made to report your team drops.
Please make checks payable to Westonka Speech Team and mail to:
Westonka Speech Team
Mound Westonka High School
5905 Sunnyfield Rd E
Minnetrista, MN 55364​
Format
All divisions (Varsity and Novice) will compete together in the three prelim rounds.
All entries will be sorted at the completion of the third prelim round:

First break to Finals will be by overall ranks in combined divisions (top 1-7 overall).
Second break to Novice Finals will be by ranks of the remaining Novice competitors (remaining top 1-7 Novice).
Novice Division
A Novice competitor needs to meet either of the following criteria:
A first time ever competitor in speech (changing events does not count), and can be in any grade.
Any student in 6th, 7th, 8th or 9th grade who has never broken into an out round (eg. Honors, Quarter, Semi, Final) at any previous varsity tournament.
Due to anticipated small registration numbers, there will not be a Novice division for Program Oral Interp (POI), nor Impromptu.
Schedule
| TIME | EVENTS |
| --- | --- |
| 7:45 AM | Registration Closes |
| 8:15 AM | Judges Meeting |
| 8:30 AM | Round 1 Draws (ER, ES, STY) |
| 8:45 AM | Round 1 Discussion |
| 9:00 AM | Round 1 (All Categories except Discussion) |
| 10:15 AM | Round 2 Draws (ER, ES, STY) |
| 10:30 AM | Round 2 Discussion |
| 10:45 AM | Round 2 (All Categories except Discussion) |
| 12:00 PM | Round 3 Draws (ER, ES, STY) |
| 12:15 PM | Round 3 Discussion |
| 12:30 PM | Round 3 (All Categories except Discussion) |
| 1:45 PM | Draws for Finals |
| 2:00 PM | Finals for Discussion |
| 2:15 PM | Finals for All Categories (except Discussion) |
| 3:30 PM | Awards (or as soon as possible) |
Judges
Each team is required to bring 1 judge for each 6 entries (including double entries).
For each uncovered entry, the team will be assessed a $100 fee.
We hope to have 3 judges in Varsity Finals Round, and so ask that your judges please stay for Finals.
E-Ballots
This is an e-ballot tournament! When registering your judges, please provide their email addresses.
Let your judges know before the tournament they should expect an email inviting them to activate their account on live.speechwire.com.
Judges should make sure they have tested logging in once before the tournament to verify their account works.
Judges will need to be online throughout the tournament to record ranks and critiques.

We recommend a using device with a keyboard for writing critiques (laptop, chromebook, tablets with keyboard).
Do not use a smart phone for writing critiques online!

During a round, the judge would perform the following steps:
Start the e-ballot as soon as the round begins. This step notifies the tab room that the round is starting.
As each speaker speaks, type the critique in a text editor, such as Microsoft Word or Google Docs.
After all speakers are done and excused, fill in the ranks and submit them. A judge should NOT wait to submit ranks after finishing their critiques.
After a round, the judge should continue editing critiques, and take time to provide robust, constructive feedback.

A judge may copy-paste from the text editor back into the e-ballot critique for each speaker after ranks are submitted.
A judge may also go back and continue editing a critique from any round throughout the day.
Make sure all critiques are entered into live.speechwire.com before leaving the tournament!

Coaches should make sure they enter email addresses for each of their students in their Roster in speechwire.com.

Students would need to test logging in with this email to live.speechwire.come before the tournament. Students would use live.speechwire.com to access their rounds during the tournament.
Students and coaches would be able to view critiques through live.speechwire.com after the tournament.
Double Entering
Double entering is permissible. Triple entry is only allowed for students competing in Impromptu Speaking.
Draw categories (ER, ES, STY) are not allowed to double entry in other draw categories, or Discussion. Draw categories may double enter in any other category, including Impromptu Speaking.
Discussion is not allowed to double enter in a draw category. Discussion may double enter in any other category, including Impromptu Speaking.
Minnesota State High School League Event Info:
Extemp. Reading Prose: Chapters in "Zero", "Four", "Six", "Eight"
Extemp. Reading Poems: Poems 1-25
Storytelling Stories: Stories 1-9
Discussion will have tasks from Topic 1, Subtopics C, E, H, and I (not necessarily in that order)
Impromptu Speaking prompts will be delivered in the room by the judge. Speakers will draw several prompts from an envelope, and select one prompt to speak on. Speakers have a total of 7 minutes to decide on their prompt, prep and deliver their speeches. The judge will start timing a speaker at the time they draw their prompts from the envelope. The prompts will revolve around the theme of "A Hero's Journey": Resilience, Adversity, Bravery, Journey.
Prose students will be eligible for NIETOC bids without having to be entered into Dramatic Interpretation!
Rhys Jones
Email address: jonesr@277apps.org
Phone number: 612-308-3038
Mailing address
Westonka Speech Team
5905 Sunnyfield Rd E
Minnetrista, MN 55364